I love
Deletta's
Torchon Embossed Ponte Dress from
Anthropologie. You can see a great review
here
at Behind the Dressing Room Door.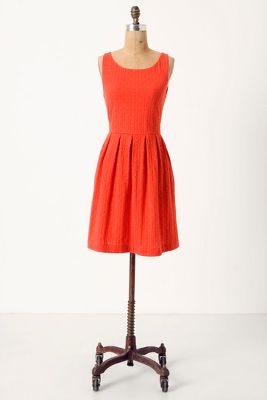 Torchon Embossed Ponte Dress
Style# 24247090
Price: $128
I found this similar style at Kohl's. I wouldn't have thought it to be an option for the Torchon dress based on the online picture but in person it seems similar. It has the same box pleats on the skirt and sleeveless fitted top. However, the waist is a little higher, it isn't embossed and it has a scalloped bottom (but you really don't notice it when you have it on). I really liked it when I tried it on. I liked it even more because I had a 30% coupon which took the total down to $31.36.
ELLE™ Scalloped Ponte Dress
original $64.00
sale $44.80
Here are some poor quality fitting room pics:
I'm really trying hard not to make impulse purchases and to only buy quality items that I know I will wear a million times. I really liked this dress but where the heck would I wear it? So I am having buyer's remorse and think it will be returned...